PHOTOGRAPH OF THE WEEK - 7 November 2008
Emily Brodnicki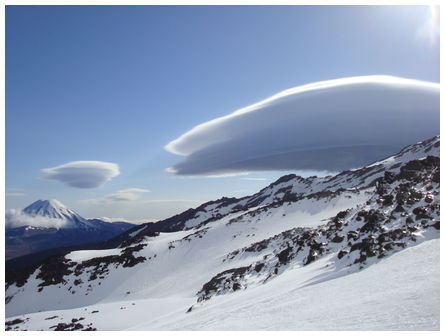 'Hi James, this picture was taken on the Whakapapa side of Mt Ruapehu about 10:00 on 27 October 2008. The sky cleared (as the weather had been terrible) and we had stunning views of Mt Nguarahoe/Mt Tongariro and then this awesome cloud started going over towards it... taken with a Sony Cybershot ditigal camera. Cheers, Emily.'
Russell Lye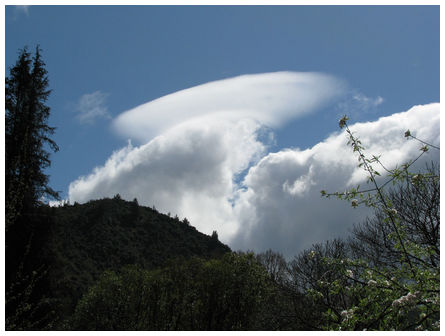 'I took this photo at Blacks Point just out of Reefton. The top only lasted a few minutes but thought it looked interesting. Taken with a Canon S5 IS, 1/1600 f5.0 on 5 October 2008 at 13:00 looking NW and the wind was SW. Love the website I check it every day wrote Russell.
Peter Whitcombe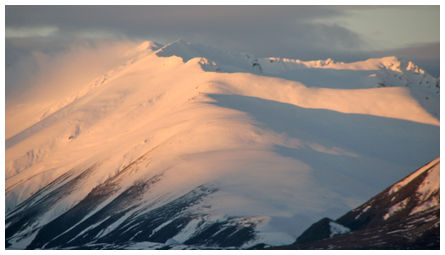 'This is a photo I took early September from a friends front porch at Lake Tekapo. It was blowing a steady nor'wester, the sun was setting, and I was dreaming about the following day's skiing. Shot with a Canon Powershot S3 IS' wrote Peter.
Malcolm Ferguson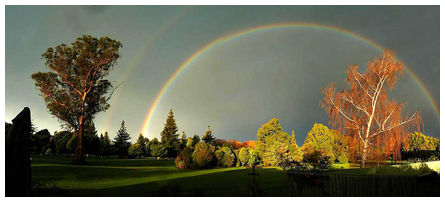 'Hi James, once in a very long while an opportunity for a good pic happens such as this, 4 shots stitched, to encompass the whole scene. Canon Powershot A710 IS, Regards, Malcolm.'
Andrew Blackler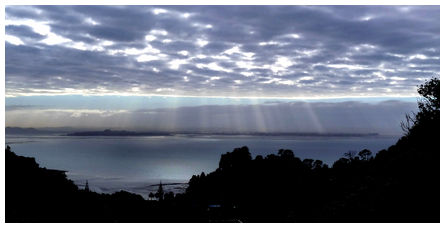 Andrew wrote 'Monday, 3 November 2008 at 07:45, in Laingholm, West Auckland, looking SE towards the airport: crepuscular rays creep out from a thin layer of stratus. This gave way to a dull start and sunny afternoon. Taken with a Panasonic FZ28, FL 11mm, F/6.3, 1/400, ISO 160.'
Jude Marsden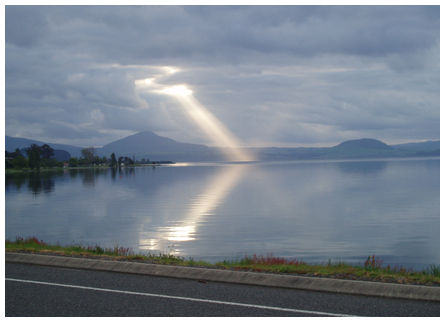 'I thought this photo might be a candidate for your front page? I took it 1 November 2008 at Waitetoko on the edge of Lake Taupo at 19:00. The sun was above the clouds (obviously), reflecting off another cloud to touch the lake at 45 degrees, and then the second reflection off the millpond-like lake. Hence the 'x' like effect. An Olympus Mini 4megapixel, Regards, Jude,'
Carl Thompson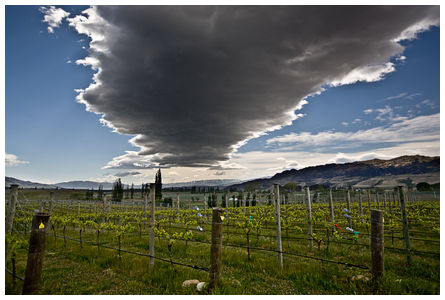 Carl wrote 'This picture was taken on the 28 October 2008 on a vineyard in Central Otago just east of the Pisa range looking north during a westerly. Camera Canon 5D at focal length of 16mm. This wave seems to be very regular when the westerly comes over the Pisa Range.'
Graham Allan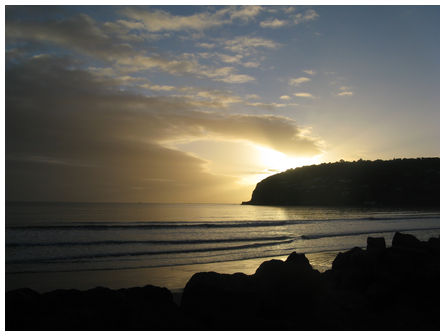 'Hi James, photo is looking SE across Whitewash Heads from Sumner Beach, Christchurch last Sunday Morning (2 November 2008) at 06:30 using Canon Powershot A720 IS, weather was calm with a building easterly wind. Regards, Graham.'
Pauline Bethell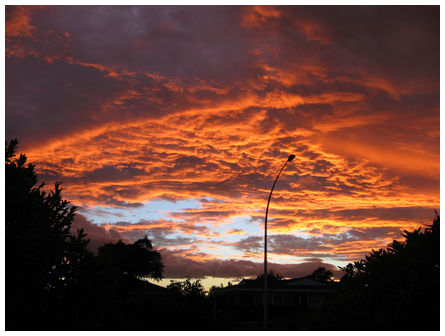 ' Hi James, Compared to some of the beautiful photography on your site, I feel very much an amateur, but thought I would submit this snapshot of our evening sky in Paeroa, captured at 19:56 3 March 2008. Taken with a Canon Power Shot A95. I really enjoy photography, and feel there is so much to be learnt from the experts that submit their photography to your site. Thanks for such a wonderful site..... most interesting. Pauline Bethell'
Chris Hill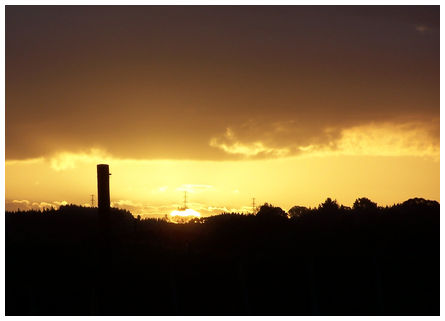 Hi James, I realise the picture was taken several months ago, on the autumnal equinox (21 March 2008) and is not relevant to this month's weather, but I look back to those halcyon days of the drought with longing. The weather was clear bright in the morning and I took this with my Kodak dx7590 set on auto exposure, regards, Chris Hill.'
SUBMITTING PHOTOGRAPHS
If you would like to submit a weather or weather related photograph to the metvuw.com website please click here and send it/them as an email attachment. Our preference is for unmanipulated full resolution photographs.
Please provide the full name of the photographer and as much detail about the photograph - location, time and prevailing weather. It is also useful to know camera and exposure details and the direction the camera was pointing. Most of the photographs that we publish are from New Zealand, however we are happy to consider interesting photographs of weather phenomena from any part of the world.
We are often approached by book and magazine editors for permission to use photographs shown here. We do not divulge your contact details but are happy to pass on such requests to you as they arise. Copyright of all the photographs shown on the site remain the property of the originator. Submission of photographs implies your permission for us to publish on the metvuw.com site unless you specifically instruct otherwise. Photographs containing logos or other text can not be considered for publication. If you have any further queries please don't hesitate to contact James.
PREVIOUS PHOTOGRAPHS OF THE WEEK
2009
27 November 2009 Noel Becker - South Westland rainbow
20 November 2009 Robin Booth - Pastel skies, Morogoro in Tanzania
13 November 2009 Paddy Darkin - Lightning strike - Whale Island
6 November 2009 Paul Grover - Mt Cook from Hermitage Car Park
30 October 2009 Fritz Schöne - Rainbow south of Wellington
23 October 2009 Linda McGuire - Mt Taranaki and fog from Tikorangi
16 October 2009 Carl Thompson - High level cloud nr Lake Wanaka
9 October 2009 Noel Munford - Sun pillar and upper tangent arc
3 October 2009 John Hunter - Sun pillar, 200miles ne of North Cape
25 September 2009 Joanne Bell - Foggy Waikato River, Huntly
18 September 2009 Murray Cave - Clouds over the Torlesse Range
11 September 2009 Mark Emirali - Rainbow at Whatipu
4 September 2009 Kahl Olsen - Fog, Tukituki Valley from Te Mata Peak
29 August 2009 Mark Merriman - Kelvin Helmholtz instability, U. Moutere
20 August 2009 James Panckhurst - Dew deposition on a trampoline
13 August 2009 Ian Thompson - Frosty morning - Lindis Pass
30 July 2009 Teresa Lamont - Franz Josef Glacier
21 July 2009 Stefan Krivan - Moondog, Palmerston North
13 July 2009 Hamish McCaul - Ice patterns on a car roof
5 July 2009 Trevor Chinn - Rimed spider webs
28 June 2009 Carolyn Blackett - Frosty in the Catlins
21 June 2009 Fiona Bignell - Sunset just out of Methven
14 June 2009 Gavin Dann - Lenticular cloud - Two Thumb Range
7 June 2009 Daniel Dwen - Cloud formation Cape Palliser
31 May 2009 Rachel Christie - Circumhorizontal arc
22 May 2009 Pam Blackwell - Cloud layers over the Volcanic Plateau
15 May 2009 Geoff Cloake - 22° halo
8 May 2009 Colin Langley - Hole punch cloud, Hauraki Gulf
1 May 2009 Steve Robb - Riverton sunset
24 April 2009 David Havell - Moonrise over Ngaruahoe
17 April 2009 Lloyd Esler - Sub Sun pillar, over Southland
10 April 2009 John Krippner - Morning fog, Te Rore, Te Awamutu
3 April 2009 Ulrika Silfverberg - Low cloud, Great Barrier Island
27 March 2009 Lloyd Esler - Fogbow Isla Bank, Southland
20 March 2009 Liz Quilty - Sunset over Auckland
13 March 2009 Scott Wilkinson - Ice buildup on blades of grass, Iceland
6 March 2009 Sheryl Logan - Hole punch cloud, Maungaturoto, Northland
28 February 2009 Alison Graville - Circumhorizontal arc, Auckland
20 February 2009 Robert Fleming - White Island plume and sea fog
8 February 2009 Steve Butler - Victoria bush fire smoke in NZ
1 February 2009 Mark Braithwaite - Electrical storm, Christchurch
25 January 2009 Tim Appelhans - Waterspout, Sumner Bay, Christchurch
16 January 2009 Noel Munford - Morning fog, Okura
9 January 2009 Tristan Hughes - Lenticular clouds, Cook Straight crossing
2 January 2009 Andrew Blackler - 22° halo and circumhorizontal arc, Piha
2008
27 December 2008 Bob Sayer - Towering cumulus, near Townsville
19 December 2008 Carl Thompson - Lenticular clouds, Wanaka
9 December 2008 Bill Claridge - Cloud streets, Banks Peninsula
30 November 2008 David Hood - Mammatus clouds in Dunedin
22 November 2008 Abhishek Singh - Palmerston North sunset
17 November 2008 John Palmer - Cook Strait and Turakirae Head
7 November 2008 Emily Brodnicki - Lenticulars over Mt Nguarahoe
31 October 2008 Geoff Cloake - 22° and 46° halo, parhelia and tangent arc
24 October 2008 Pam Gill - Dawn at Waipukurau
10 October 2008 Noel Munford - Virga, jet contrail, Palmerston North
3 October 2008 Darelle Busfield - Mammatus, Spreydon, Christchurch
26 September 2008 Andrew Hamer - Rainbow over Lyttelton harbour
19 September 2008 Peter Munro - Lenticular cloud over Two Thumb range
12 September 2008 Geoff Tempest - Hoare frost, near Alexandra
5 September 2008 Hugh Thorpe - Filtered sunlight, St Albans, Christchurch
29 August 2008 Robin Booth - Cirrus clouds over Kerikeri
22 August 2008 Anna Humphries - Threatening clouds, Central Otago
15 August 2008 Katja Riedel - Ice crystals, summit of Mt Taranaki
8 August 2008 Matthew McGinnes - Mt Hutt from just outside Methven
1 August 2008 Elizabeth Passuello - Severe easterly gales, Greymouth
25 July 2008 Jerry Zinn - Sunset, Takapuna
18 July 2008 Alex Young - Sunlight, cloud and mountains, Wanaka
11 July 2008 Ian Orchard - Sunlight, cloud and mountains, Wanaka
4 July 2008 Paul Moss - Cloud iridesence, Wellington
27 June 2008 Christopher Picking - Moonrise, Kaituna, Wairarapa
20 June 2008 John Patterson - Wellington fog
13 June 2008 Patrick Davey - Kelvin-Helmholtz wave clouds
6 June 2008 Linda Paterson - New Plymouth sunset
30 May 2008 Craig Ross - Lifting fog in Wairarapa Hills
23 May 2008 Neil Colliver - Mountain shadow, Mount Ruapehu
16 May 2008 Ben Taylor - Fabulous Fiordland weather
9 May 2008 Noel Munford - Rainbow in the Manawatu
2 May 2008 Paul Dulieu - Mammatus cloud, St. Arnaud
25 April 2008 Andrea Buckthought - Funnel cloud, Ngatea
18 April 2008 Rikki Griffin - Westerly showers, Te Anau
11 April 2008 Andrew Rodley - Sunset Panorama Heights Nelson
4 April 2008 Bruce McLennan - Sunset Hamner Springs
28 March 2008 Jan Kaluza - Cloud iridesence over Hamilton
21 March 2008 Shirley Herbert - Misty morning, Kaimanua Ranges
14 March 2008 Kelly Kruger - Altocumulus clouds, at Mangonui
7 March 2008 Shea Evans - Beautiful rainbow, Lake Wakatipu
29 February 2008 Maggie de Grauw - Circumhorizon arc, Tirohia
22 February 2008 Steve Howat - Water spout off Kapiti coast
15 February 2008 Peter Loveridge - Lenticulars from Mt von Bulow
8 February 2008 Marty Rivers - Electrical storm, Perth, Australia
1 February 2008 Steve Thomson - Dove shaped cloud Auckland CBD
25 January 2008 Tony Travaglia - Fisheye photo of halo around sun
18 January 2008 Vicky Orbell - Lightning near Fairlie
11 January 2008 John Wilkinson - Dust devil at Omarama
4 January 2008 Dave Gordon - Across Tasman Bay from Atawhai
2007
28 December 2007 Cameron Hoyle - Funnel cloud near White Island
21 December 2007 Les Edwards - Cloud reflections in Lake Tarawera
14 December 2007 John Coplestone - Cloud caps on Mount Taranaki
7 December 2007 Darren Gedye - Thunderstorm over Tauranga
30 November 2007 Paul van Kampen - Fogbow at the Green Lake
23 November 2007 Olga Zubkova - Sunset at Waikanae
16 November 2007 Tom Hall - Lightning strike, Wellington
9 November 2007 Diarmuid Kingsleigh-Smith - Sunrise in Auckland
2 November 2007 Rona Lomas - Fabulous lenticular over Mt Ngauruhoe
25 October 2007 Cheryl Retallick - Mammatus at Levin
12 October 2007 Liam Anderson - Water spout at Hokitika Beach
5 October 2007 Dale Savage - Mt Ruapehu eruption
28 September 2007 Andrew Blackler - Sun Dog, Onehunga
21 September 2007 Peter Kirby - Lightning strike Gold Coast, Australia
14 September 2007 Rick Brown - Anti-crepuscular rays Anaura Bay
7 September 2007 Don Macalister - Hauraki Gulf weather, Easter 2005
31 August 2007 Sean Clynes - Eclipse of the Moon 28 August 2007
24 August 2007 Andrew Wardell - Spectacular sun pillar Mt Ngauruhoe
17 August 2007 Tony Kellett - Rainbow, Taranaki Street, Wellington
10 August 2007 Philip Blackler - Light scattering off water droplets
31 July 2007 John O'Malley - Rare ice haloes and arcs
4 May 2007 Neil Smart - Glory and the Brocken Spectre
20 April 2007 Andrew Blackler - Waterbow at Titoki, Northland
31 March 2007 Bob Bingham - Flooding at Kerikeri
16 March 2007 John Nysse - Lake Matherson
2 March 2007 Gary Briggs - Lake Pukaki and Aorangi
18 January 2007 Noel Munford - Comet McNaught, viewed from Levin
10 January 2007 Vicky Orbell - Gathering storm, Central Otago
2006
18 December 2006 Helen Greenfield - Port Hills, Christchurch
30 October 2006 Rob Bargh - Taranaki from Ruapehu
16 October 2006 Mike Nicholson - Double rainbow
5 October 2006 Wynston Cooper - Hollyford view
28 September 2006 Quentin Smith - Lightning strike Mount Maud
21 September 2006 Micky Waby - Rainbow over the Rees River
1 August 2006 Micky Waby - Iridescent lenticular cloud formation
10 July 2006 Mel Hodgkinson - Fog in central Wellington
19 April 2006 Phil Bones - Cap cloud on Mt Hooker from Dasler Pinnacles
7 April 2006 Richard Park - Sugar Loaf Islands, New Plymouth
31 March 2006 James McGregor - Total Eclipse of the Sun, Turkey
24 March 2006 Brian Waugh - Wave clouds, Tawa
7 March 2006 Michael MacGregor - Cap cloud on Taranaki
7 February 2006 Dawn McKenzie - Waterspout from Manly, Whangapararoa
24 January 2006 Kelly Cattermole - Lightning at Kirwee
3 January 2006 James McGregor - 22° halo, Southern Wairarapa
2005
13 December 2005 Daniel Lowe - Funnel cloud, Greymouth
29 November 2005 Jim Gabbitas - Sunset in Newmarket, Auckland
1 November 2005 Ron Court - Magnificent wave clouds at Hanmer Springs
25 October 2005 Ron Ovenden - Hole punch clouds at Whatawhata
18 October 2005 John Forsyth - Low level cloud, Whitereia Park
11 October 2005 Adrienne Walczak - Eggs balloon and Balfour Glacier
20 September 2005 Craig Liken - Falling snow, Christchurch
14 September 2005 MetVUW - PM's visit to the home of MetVUW
23 August 2005 Adrienne Walczak - Eggs hot air balloon over Ruapehu
9 August 2005 Helen Bucksey - Rainbow at Tokaanu
2 August 2005 Adrian Godfrey - Lenticular clouds
5 July 2005 Robert Anderson - Ardmore tornado
28 June 2005 Adrian Godfrey - Lenticular cloud off Ruapehu
21 June 2005 James McGregor - Cumulus development over the Tararuas
14 June 2005 Peter Kirby - North Island snow scene + More NZ mammatus
7 June 2005 Bruce Turner - Auckland City fog
31 May 2005 Nanette Sinclair - Foggy cobwebs, Orepuki + US mammatus
24 May 2005 Tony Travaglia - Aurora Australis
17 May 2005 Sue O'Malley - Fog bow, glory and brocken spectre
10 May 2005 Ian Frame - Wellington rainbows
3 May 2005 Ian Orchard - Hagley Park fog
26 April 2005 David Jensen - Atmospheric waves
19 April 2005 Dave Swarbrick - Hole Punch clouds, Auckland
12 April 2005 Michael Franklin - Stewart Island front
5 April 2005 Ian Cooper - Palmerston North funnel cloud
29 March 2005 Jennie McCormick - Spectacular mammatus
22 March 2005 Steve Ancsell - Matamata funnel cloud
15 March 2005 Kelly Cattermole - Kirwee sunset
8 March 2005 Craig Miller - Altocumulus from slopes of Ruapehu
1 March 2005 John Robinson - Gliding above Roxburgh
22 February 2005 Grant Middendorf - CB at Matara
15 February 2005 Pete Bielby - Christchurch sunset
SATELLITE MOVIES
August 2006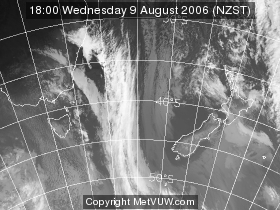 This movie shows the weather for the month of August 2006. Click thumbnail or here to view the 1-31 August 2006 movie. (File size 5.44 Mbs)
PREVIOUS SATELLITE MOVIES
QuickTime movie - 1-31 January 2006. (File size 5.43 Mbs)
QuickTime movie - 1-30 June 2006. (File size 9.24 Mbs)
QuickTime movie - 1-31 July 2006. (File size 5.73 Mbs)
QuickTime movie - severe snow storms 10-13 June 2006. (File size 683.1 kbs)